Looking for the investment in a good offline business where you may have light tension and high revenue (Totally depends on Luck) you are the best way to buy Rs.15000 Prize bonds that you have money in your pocket. The Fifteen Thousand Prize bond is third big price Prize bond in Pakistan that has millions of Rupee as a Prize-winning amount. You can get in touch with this worthy paper from any official source or national savings related website. This is the thing to remember that all investments in Prize bonds and National savings schemes are only announced by savings.gov.pk that is the core website of the National savings of Pakistan.  Check online 15000 Prize bond Draw Result List 2019 all recent and previous draws by the National savings of Pakistan. You can view complete Prize bond Rs. 15000 Draw Results 2019 and Past draws here.
Rs.15000 Prize bond Management:
All matters are handled by National savings of Pakistan in supervision of State Bank of Pakistan (SBP) like the draw date, schedule, city to held, prize amount fixation, policies, tax on prize bonds, make draw change decisions, new prize bond issuance and all the matters related to National savings certificates scheme in Pakistan. The bond has many good prizes for the buying public. It has a total of 1700 Prizes including 01 as first prize, 03 as the 2nd prize and 1696 as third prize.
Winning Amount of 15000 Prize bond:
The rs. 15000 prize bond have very high prices that each person looking to get it at the first time but that only matters if your luck and each one has his own fortune. The National savings of Pakistan have already announced the prize amounts for each prize denominations like Prize bond 15000. The first prize amount has 30 Million Pakistani Rupee(03 Crore) that will have only one winning person. The 2nd prize amount is Rs. 10 Million (01 Crore PKR) that has 03 winning lucky prizes. And the third prize amount is One Lac and Eighty-Five Thousand Rupee. All the winning prizes have some worth and convince its buyers.
Current Years 15000 Prize bond scheduled Dates and Cities:
Like previous draw this year Rs. 15000 prize bond have 04 draws with spell time of 03 Months. The first draw of Rs 15000 will be held on 02 January 2019 at Karachi city. The 2nd draw of  Rs. 15000 will be held on list 02/04/2019 at Rawalpindi city, The 3rd draw of  Rs. 15000 prize bond will be held on 03 July 2019 at Faisalabad city and the final draw of the year the Draw No. 04 Prize bond Rs 15000 will hold on 02 October 2019 at Muzaffarabad city. So keep in mind the details of the draw dates for your bought denominations papers and get in touch on National savings official source of the website for the latest prize bond draw information online.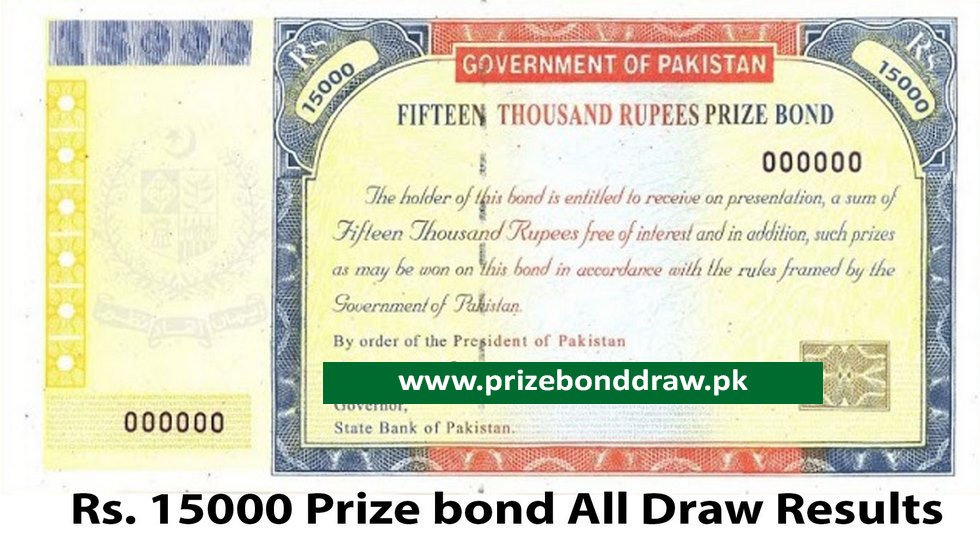 Rs. 15000 Prize bond 2019 Draws:
Rs. 15000 Prize bond 2018 Draws:
| | | |
| --- | --- | --- |
| 01 | Rs 15000 Draw 02 January 2018 Muzaffarabad | Download |
| 02 | Rs. 15000 Draw list 02/04/2018 Multan | Download |
| 03 | Rs. 15000 Prize bond list 03/07/2018 Lahore | Download |
| 04 | Rs 15000 Draw 01 October 2018 Peshawar | Download |
Rs. 15000 Prize bond 2017 Draws:
| | | |
| --- | --- | --- |
| 01 | Rs 15000 Draw 02 October 2017 Multan | Download |
| 02 | Rs. 15000 Draw list 03/07/2017 Muzaffarabad | Download |
| 03 | Rs. 15000 Prize bond list 03/04/2017 LAHORE | Download |
| 04 | Rs 15000 Draw 02 January 2017 Rawalpindi | Download |
Rs. 15000 Prize bond 2016 Draws:
| | | |
| --- | --- | --- |
| 01 | Rs 15000 Draw 04/01/2016 KARACHI | Download |
| 02 | Rs 15000 Draw 01/04/2016 HYDERABAD | Download |
| 03 | Rs. 15000 Draw list 04/07/2016 QUETTA | Download |
| 04 | Rs. 15000 Prize bond list 03-10-2016 FAISALABAD | Download |
Rs. 15000 Prize bond 2015 Draws:
| | | |
| --- | --- | --- |
| 01 | Rs 15000 Draw 02/01/2015 LAHORE | Download |
| 02 | Rs 15000 Draw 01/04/2015 QUETTA | Download |
| 03 | Rs. 15000 Draw list 02/07/2015 HYDERABAD | Download |
| 04 | Rs. 15000 Prize bond list 01/10/2015 MUZAFFARABAD | Download |
Rs. 15000 Prize bond 2014 Draws:
| | | |
| --- | --- | --- |
| 01 | Rs. 15000 Prize bond list 02/01/2014 KARACHI | Download |
| 02 | Rs. 15000 Prize bond list 01/04/2014 RAWALPINDI | Download |
| 03 | Rs. 15000 Prize bond list 02/07/2014 MULTAN | Download |
| 04 | Rs. 15000 Prize bond list 01/10/2014 MUZAFFARABAD | Download |
Rs. 15000 Prize bond 2013 Draws:
| | | |
| --- | --- | --- |
| 01 | Rs. 15000 Prize bond list 02/01/2013 MULTAN | Download |
| 02 | Rs. 15000 Prize bond list 01/04/2013 PESHAWAR | Download |
| 03 | Rs. 15000 Prize bond list 02/07/2013 MUZAFFARABAD | Download |
| 04 | Rs. 15000 Prize bond list 01-10-2013 RAWALPINDI | Download |
Rs. 15000 Prize bond 2012 Draws:
| | | |
| --- | --- | --- |
| 01 | Rs. 15000 Prize bond list 03-01-2012 FAISALABAD | Download |
| 02 | Rs. 15000 Prize bond list 02-04-2012 HYDERABAD | Download |
| 03 | Rs. 15000 Prize bond list 03-07-2012 MUZAFFARABAD | Download |
| 04 | Rs. 15000 Prize bond list 01-10-2012 RAWALPINDI | Download |
Rs. 15000 Prize bond 2011 Draws:
| | | |
| --- | --- | --- |
| 01 | Rs. 15000 Prize bond list 01-04-2011 Karachi | Download |
| 02 | Rs. 15000 Prize bond list 02-07-2011 Lahore | Download |
| 03 | Rs. 15000 Prize bond list 01-10-2011 Faisalabad | Download |
Other Prize bonds Results: