Get Prize Bonds Draw Schedule 2020 from January to December by www.savings.gov.pk online. Download fresh out of the box new prize security draw plan list 2020 by national money related investment funds of Pakistan. Get many prize Bond Rs. have unique types of nation savings sparing prize bonds. You could find the motivation posting of each pulls in.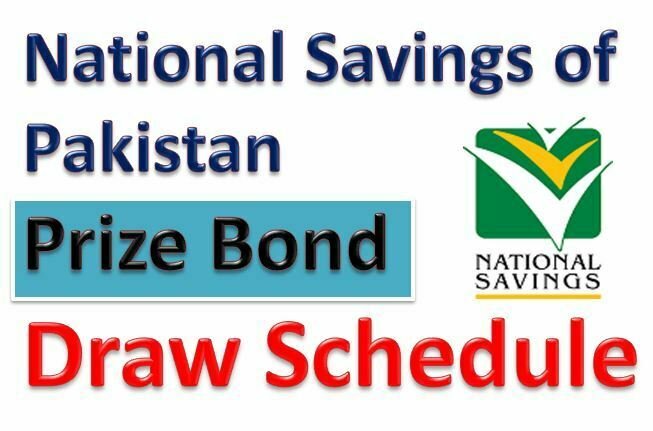 Discover prize bond draw timetable of extremely worth 100, 2 hundred, 750, 1500, 7500, 15000, 25000 and 40000 individually by prizebonddraw.pk online. Get Prize bond schedule 2020 – find all prize bond schedule 2020 from January to December. The national investment funds draw the calendar year 2020, on this page, you can investigate yearly from January to December plan posting of 2020 for all extremely worth of prize bonds, for example, Rs. a hundred (Prize bond welfare securities), Rs. 200, Rs. 750, Rs. 1500, Rs. 7500, Rs. 15 000, Rs. 25000 and Rs. 40000 individually.
The prize bonds are the plan for all draws of assets to satisfy the consumption of government. Prize bond isn't any side interest is accumulated or paid. Prize Bond Rs. are typically ready to recover Rs. your bonds for money. The indistinguishable sum as you paid first and foremost. Occasionally, some of the prizes are assigned and each bond has an equivalent danger of winning a prize. You may win a considerable measure or nothing. Be that as it may, you can't lose your venture. Prize bonds are conveyor kind of security accessible in seven sections. These bonds are issued in gathering and each arrangement comprises one under 1,000,000 bonds. The new premium prize bond schedule is at the end of the page. The new Prize Bonds Draw Schedule 2020 is here to free download in Pdf online.
Check Prize Bonds Draw Schedule 2020 here:
| | | | | | |
| --- | --- | --- | --- | --- | --- |
| Sr No. | Prize Bond | Draw# | Draw  Date | Day | City |
| 1 | Rs.15000/- | 81 | January 02, 2020 | Thursday | Quetta |
| 2 | Rs.750/- | 81 | January 15, 2020 | Wednesday | Karachi |
| 3 | R.7500/- | 81 | February 03, 2020 | Monday | Hyderabad |
| 4 | Rs.25000/- | 32 | February 03, 2020 | Monday | Faisalabad |
| 5 | Rs.1500/- | 81 | February 17, 2020 | Monday | Rawalpindi |
| 6 | Rs.100/- | 29 | February 17, 2020 | Monday | Peshawar |
| 7 | Rs.40,000 Premium | 12 | March 02, 2020 | Monday | Multan |
| 8 | Rs.200/- | 81 | March 16, 2020 | Monday | Muzafarabad |
| 9 | Rs.15000/- | 82 | April 01, 2020 | Wednesday | Faisalabad |
| 10 | Rs.750/- | 82 | April 15, 2020 | Wednesday | Hyderabad |
| 11 | Rs.7500/- | 82 | May 04, 2020 | Monday | Peshawar |
| 12 | Rs.25000/- | 33 | May 04, 2020 | Monday | Rawalpindi |
| 13 | Rs.1500/- | 82 | May 15, 2020 | Friday | Muzafarabad |
| 14 | Rs.100/- | 30 | May 15, 2020 | Friday | Lahore |
| 15 | Rs.40,000 Premium | 13 | June 01, 2020 | Monday | Karachi |
| 16 | Rs.200/- | 82 | June 15, 2020 | Monday | Quetta |
| 17 | Rs.15000/- | 83 | July 02, 2020 | Thursday | Hyderabad |
| 18 | Rs.750/- | 83 | July 15, 2020 | Wednesday | Muzafarabad |
| 19 | Rs.7500/- | 83 | August 03, 2020 | Monday | Faisalabad |
| 20 | Rs.25000/- | 34 | August 03, 2020 | Monday | Lahore |
| 21 | Rs.1500/- | 83 | August 17, 2020 | Monday | Multan |
| 22 | Rs.100/- | 31 | August 17, 2020 | Monday | Quetta |
| 23 | Rs.40000/- Premium | 14 | September 01, 2020 | Tuesday | Rawalpindi |
| 24 | Rs.200/- | 83 | September 15, 2020 | Tuesday | Peshawar |
| 25 | Rs.15000/- | 84 | October 01, 2020 | Thursday | Multan |
| 26 | Rs.750/- | 84 | October 15, 2020 | Thursday | Lahore |
| 27 | Rs.7500/- | 84 | November 02, 2020 | Monday | Karachi |
| 28 | Rs.25000/- | 35 | November 02, 2020 | Monday | Peshawar |
| 29 | Rs.1500/- | 84 | November 16, 2020 | Monday | Quetta |
| 30 | Rs.100/- | 32 | November 16, 2020 | Monday | Faisalabad |
| 31 | Rs.25000/- Premium | 15 | December 10, 2020 | Thursday | Hyderabad |
| 32 | Rs.200/- | 84 | December 15, 2020 | Tuesday | Rawalpindi |
Note: In case draw fall in public holiday(s) the draw will be held on the following working day(s)